Nickel Boron Nitride Coating – Hardness and Lubricity
Mold Coating for Hardness and Lubricity
All of our plating services for the molding industry are excellent selections for your rubber molds and for the release of plastics. In particular, our Nickel Boron Nitride hard coating is extremely popular with our customers.
Our electroless nickel boron nitride coatings(EN-BN coatings) are co-deposits of hard nickel and a boron nitride matrix, which gives this coating both hardness and lubricity. This coating has an extremely low coefficient of friction and wear resistance, and it also provides a high degree of corrosion protection. We recommend using this coating when dimension changes are needed to the molding surface or we can coat the entire part.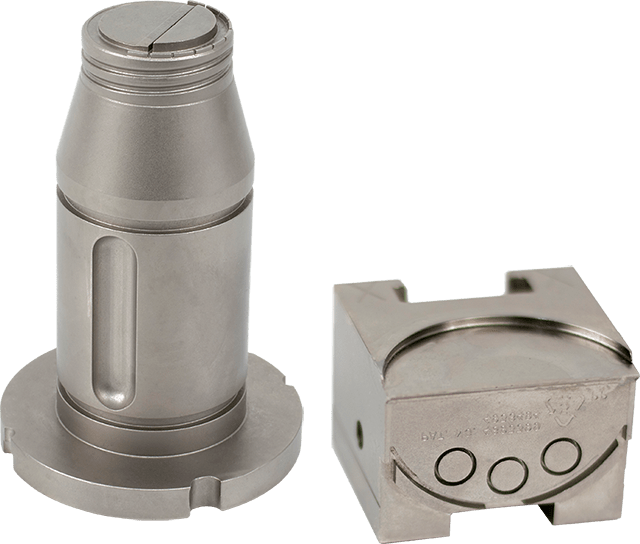 PFI's Nickel Boron Nitride Coatings Serve Industries Including:
Automotive
Aerospace
Communications
Computer
Electronics
Household Appliances
Oil & Gas Equipment
Medical & Pharmaceutical
Specs and Attributes
A co-deposit of nickel and boron nitride matrix
Plating thickness ranges from .00004 to .005
Uniformity in plating deposit no matter the configuration
Excellent mold release
Outstanding corrosion protection
Selective plating can be achieved
Low coefficient of friction
Almost all tool steels, aluminum, copper and beryllium can be coated
Nickel boron nitride can be chemically removed
Why Choose PFI for your Nickel Boron Nitride Coating Needs
PFI's reliable Nickel Boron Nitride coatings are not only high quality, but we differentiate by putting full confidence in our highly experienced metal finishers. The hardness, lubricity, and low-maintenance that our electroless nickel boron nitride moldings(EN- BN moldings) provide, combined with the expertise of our injection molding metal finishers, is unparalleled in the industry. To learn more about how PFI is a differentiator in boron nitride coatings, check out our article on PFI's capabilities.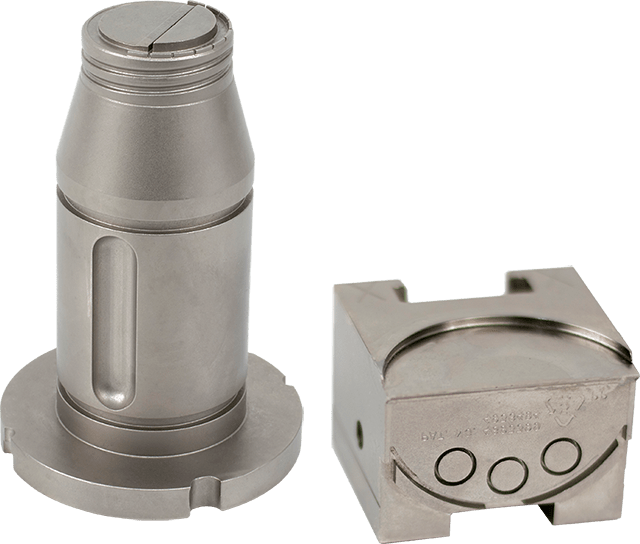 Nickel Boron Coating FAQ
What are the Benefits of Nickel Boron Coating?
Similar to the benefits of electroless nickel phosphorus coating, nickel boron nitride offers superior resistance to corrosion and wear. Additionally, nickel boron coating offers a high resistance to friction and increased ductility. Nickel boron nitride coating is an eco-friendly alternative to hexavalent chromium. 
What is the Process for Nickel Boron Coating?
Much like a nickel phosphorus coating, the process for plating with nickel boron nitride is electroless, meaning it utilizes an autocatalytic chemical reaction in place of an electric current. A nickel boron nitride coating is deposited from a solution that contains a reducing agent (such as an alkylamineborane or sodiumborohydride), nickel ions, a buffer, complexant, and control chemicals.
What is the Difference Between Electroless Nickel Coating and Nickel Boron Coating?
Electroless nickel coating offers many of the same benefits that come with a nickel phosphorus coating, including increased hardness and decreased porousness. However, an electroless nickel boron nitride coating is known to provide a greater resistance to wear than electroless nickel phosphorus coating.
How Does Electroless Nickel Boron Coating Compare to Chrome Plating?
Nickel boron nitride has been noted as being more accurate at coating complex shapes, including steel and aluminum, with no post-grinding. Nickel boron nitride offers an equal (if not higher) level of hardness, averaging 70 C on the Rockwell scale and is generally considered more lubricious than hard chrome.
How Thick is Nickel Boron Coating?
Most substrates, including those with complex geometries, can be uniformly coated with a nickel boron nitride layer up to .005".
What Substrates Can Be Coated with Nickel Boron?
Nickel boron nitride coating is applicable to a number of substrates and surfaces, including both carbon and stainless steels, aluminum and aluminum alloys, titanium, ceramics, and inconel substrates.
What are the Benefits to an Electroless Process?
Working in tandem with the benefits of nickel boron nitride, the electroless coating process allows for full control of deposition levels, producing consistently accurate tolerances. This makes electroless nickel boron nitride a perfect fit for coating complex shapes, including corners, edges, blind holes, internal areas, and more.