Electroless Nickel Plating Services
Superior Electroless Nickel Plating for Military & Injection Mold Industries
Top Electroless Nickel Plating Services in PA, NY, OH, and Throughout the U.S. 
PFI is a top electroless nickel plating supplier specialized in tight tolerance plating work focused on engineering applications, tooling protection and more.  Many of our plating customers are in NY, OH, PA, but because of our superior quality, ontime delivery, and tight tolerances, we are known throughout the U.S. as a go-to supplier of electroless nickel plating services. Electroless nickel is created through a chemical reaction between the material being plated and the nickel solution. The material is bathed in an aqueous solution at nearly 200°F. After the material is bathed, the electroless nickel will have bonded to the substrate. The plated material will not conduct any electricity as the solution seals off the substrate from the outside environment. Electroless Nickel also has a melting range of approximately 1600°F to handle those hot environments you may find yourself in.
Electroless Nickel deposits uniformly no matter what material you are plating. It is perfect for repairing molds, bores, and EDM areas to bring parts back to print dimension. Salvage your parts with Electroless Nickel plating.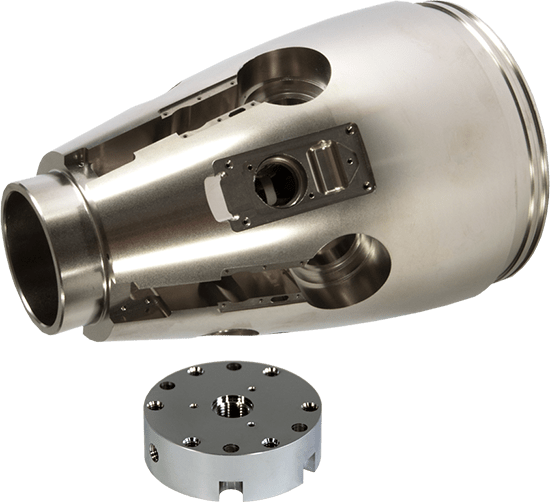 Why Choose PFI for Top Electroless Nickel Plating Services?
Progress for Industry Inc. has one dedicated line plating electroless nickel every day. PFI can plate electroless nickel as thin as 0.000025" and as thick as .020". We have plated a vast variety of thicknesses for our clients throughout the CNC Machining, Military, and Injection Mold industries. We are also proud to serve military clients. We plate all of our electroless nickel across all classes and grades of MIL-C-26074, AMS 2404C, and ASTM B 733-97. We provide electroless nickel plating services in Pennsylvania, NY, Ohio, and throughout the U.S. 
All three of PFI's electroless nickel baths are all RoHS compliant. These baths are:
High phosphorus electroless nickel, known for its excellent corrosion protection (salt spray test of 1000+ hours)
Medium phosphorus, known for its hardness, brightness, and fast plating rate
Low phosphorus electroless nickel, known for its RC hardness
PFI is located at the heart of the tool and die manufacturing area, and we carefully mask and selectively plate only the area that needs to be built up.
We have the capabilities to plate the following materials with electroless nickel:
Carbon

Stainless Steel

High Alloy Steel

Iron

Aluminum

Copper

Brass

Bronze

Beryllium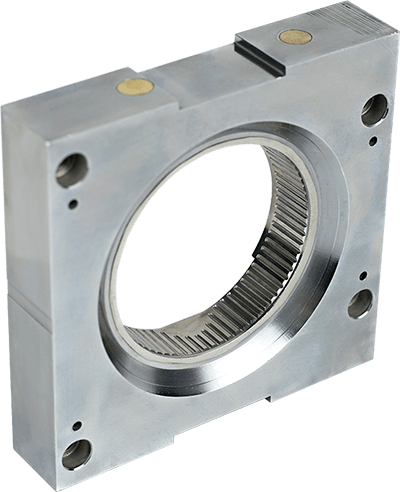 Electroless Nickel vs. Hard Chrome
Some of our applications for electroless nickel can give over 1000+ hours of salt spray corrosion protection. Hard Chrome can only give 24 hours of salt spray corrosion protection. Hard chrome plating can offer some better overall wear protection, it cannot replicate the salt spray corrosion protection offered by electroless nickel.
Electroless Nickel vs Anodizing?
Electroless Nickel and anodizing both have their own place when it comes to improving your components for the job. Electroless nickel plating is a surface plating, whereas anodizing partly grows into the part it is being applied too. Components can be plated multiple times without compromising the part, whereas anodizing multiple times can put your components at risk of being compromised.